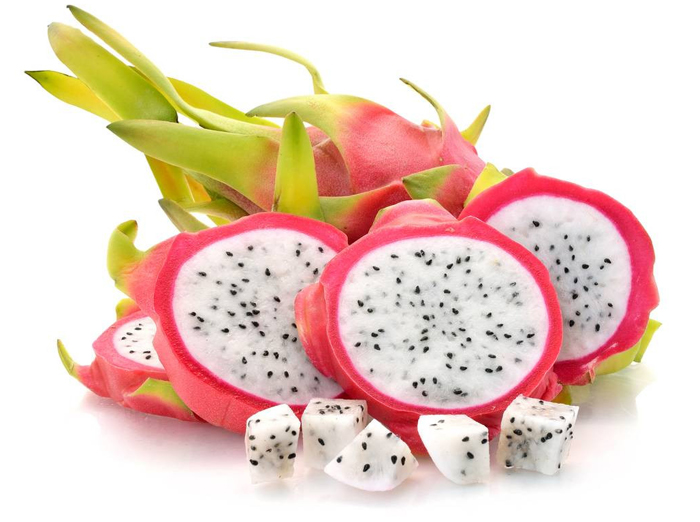 Dragon Fruit
Contact
* Scientific name: Hylocereus Undatus
* Variety: white flesh dragon fruit, and red flesh dragon fruit
* Description: Dragon fruit is an exotic tropical treat for those that are lucky enough to taste them.
Dragon fruit cultivation comes from cactus plants grown in humid and tropical conditions such as Vietnam they are called "Thanh long – Green Dragon". This makes dragon fruit easier to find and very popular in Asian food markets. There are some varieties of dragon fruit: white dragon fruit and red dragon fruit. With the bright pink on the outside and "scales" covering it, the dragon fruit really does resembles a dragon. It has a pale interior studded with tiny, edible seeds and and a sweet-tart flavor.
* Dragon fruit is one of the famous Vietnamese fruit.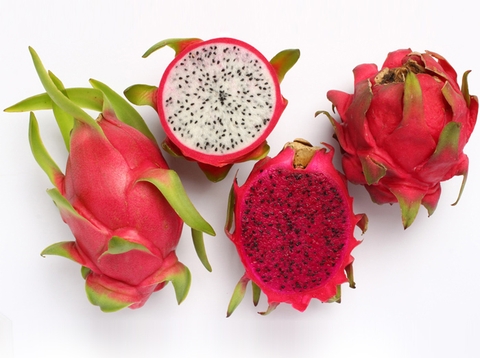 Red and White dragon fruit
* Dragon fruit nutrition: Dragon fruits are rich in carbohydrates, protein, calcium, iron and phosphor. It also provides large amounts of niacin (vitamin B3) and ascorbic acid (vitamin C). The dragon fruit is rich in water and fiber, and contains significant quantities of phytaolbumin antioxidants, which prevent formation of cancer – causing free radicals. Dragon fruit and recipe are abundant because they are delicious and versatile.
* Dragon Fruit season: available all year round.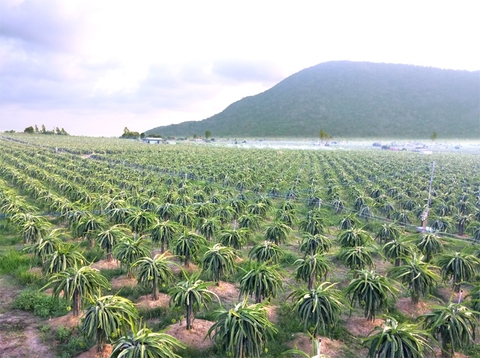 Dragon fruit Farm certified GlobalGap
* How to store fresh dragon fruit: under the temperature of 50C
* How to eat: Cut the dragon fruit into pieces you want and eat fresh. If you have an ice cream scoop handy, you may be able to scoop the dragon fruit out of the skin. Once you have the fruit out, you can slice the fruit and place it in a blender with a bit of pineapple or orange juice or by itself with some ice cubes to make a sweet and refreshing fruit drink, or cut into chunks to add to smoothies, fruit salads. You can also puree the dragon fruit and make a dragon fruit sorbet. Both the flesh and the tiny black seeds are edible, but the rind/ skin is not.
* Where to buy dragon fruit: Fruits and Greens Company is specialize in providing dragon fruit in Vietnam and export to many countries in the world with 15 year experience.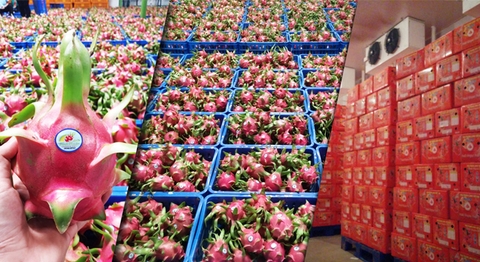 * Quality: Dragon Fruit of Fruits and Greens Co., now is available in Spain, Netherland, China, Singapore, Indonesia, Myanmar, Canada, India, Dubai, Doha Qatar...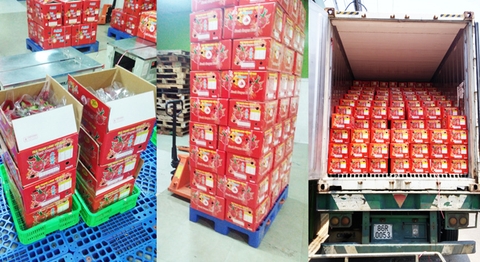 We supply Premium Dragon Fruits which are certified Global GAP, VietGAP and Packing house also has HACCP Certificate.
* To get dragon fruit price: please kindly contact us at:
CEO- Mr. Hoang: Tel MP/ Whatsapp/ Viber: +84 913 932 446
Email: hoangrauqua@fruitsandgreens.com.