Sweet Potato
Contact
Scientific name: Ipomea Batatas
Variety: Japanese sweet potato included yellow sweet potato and purple sweet potato
* Description: The versatile sweet potato is ideal fare for the health - conscious consumer. With the ever-growing interest in health and natural foods, the sweet potato is quickly finding its place in the family weekly diet. The sweet potato blends with herbs, spices and flavorings producing delicious dishes of all types. From processed baby foods to the main dishes, casseroles, salads, breads and desserts, sweet potatoes add valuable, appetizing nutrients and color to any meal.
* Sweet potato nutrition: Sweet potatoes are low in Sodium, and very low in Saturated Fat and Cholesterol. It is also a good source of Dietary Fiber, Vitamin B6 and Potassium, and a very good source of Vitamin A, Vitamin C and Manganese.
It provides beta carotene which may be a factor in reducing the risk of certain cancers.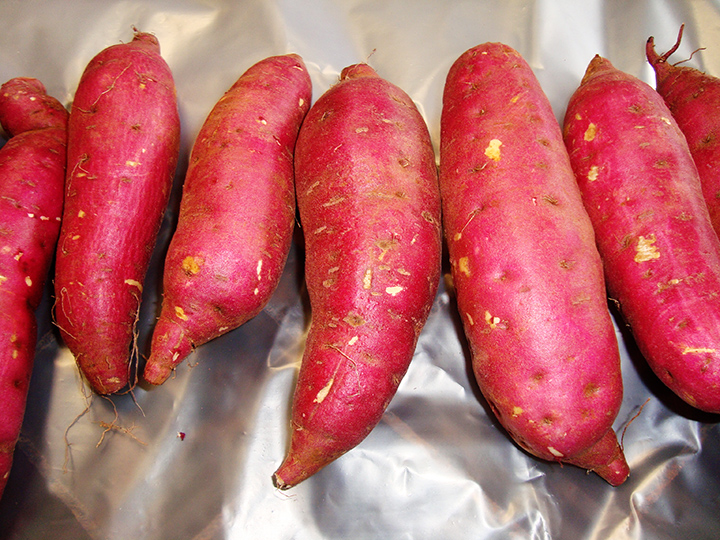 * Fruiting season: All year round
* How to store sweet potatos: Under the temperature of 13-15°C, it can be kept in 4-7 months
* How to eat: Sweet potato can be baked, boiled, fried, broiled, canned or frozen. They can also be cooked in the microwave oven. Before cooking sweet potatoes, scrub skin and trim off any bruised or woody portions.
* Quality: Sweet potato of Fruits and Greens Co. now is available in Spain, Netherland, China, Singapore, Indonesia, Myanmar, Canada, India, Dubai, Doha Qatar...
We supply Premium Sweet potatoes which are certified Global GAP, VietGAP and Packing house also has HACCP Certificate.